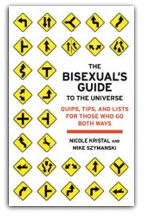 Topic: The Bisexual's Guide to the Universe
Quips, Tips, and Lists for those who go both ways.
Book Content (from Amazon.com): Double your chances for a date this weekend with the ultimate handbook. Organized by experience level, this no-holds-barred, irreverent guide is for anyone-bisexual, queer, pansexual, or none of the above-who wants the best of both worlds. Increase your Bi-Q now!
Guests: Mike Szymanski & NIcole Kristal
Mike Szymanski has been a bi activist since the early 1980s when he was a gay writer who came out as bi in a cover story and then went on the Donahue Show to talk about it. He has been on more than forty talk shows, and has written for E! Online, Knight-Ridder Tribune, Atlanta Constitution, Entertainment Weekly, US, and many national magazines and now writes for the Los Angeles Times, Science Fiction Weekly, WordMag, and Hollywood.com. Mike has also written popular columns on PlanetOut.com, BiFocus.com, BiCafe.com, and Cybersocket.com. He was previously media coordinator for BiNet USA, and now teaches journalism at UCLA. His current partner found him by reading an article Mike wrote about bisexuality and came out as bi after being married to a woman. They are now raising a child his partner fathered with Mike's sister and have been together for a decade.
Nicole Kristal graduated with a degree in journalism from the University of Oregon where she first learned that organizing bisexuals was similar to herding cats. Since then she has written for Newsweek, Premiere magazine, Back Stage West newspaper, and web sites such as BiCafe.com and Ostrich Ink. In 2003, she decided to pursue her career as a singer-songwriter full-time performing her tunes at clubs across Los Angeles and at the North American Bisexual conference in 2004. While struggling to pay the bills, Nicole fell into illicit academic term paper writing for rich Hollywood kids and later exposed the practice and her experiences on the CBS Evening News, WPHT talk radio in Philadelphia and the Lesley Primeau show in Canada. She's currently paying the bills staff writing for a weekly newspaper in Los Angeles and is in the process of recording her next album. Click here to listen to her last album "Radiate."
Website: www.bisexualsguide.com