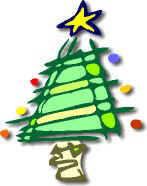 Topic: Holiday Blues: Get Over It & Have a Good Time!
How to Take Care of Yourself During the Holiday Season and Not Let the Ghosts of Holiday Pasts Ruin Your Celebration. How to Go Into the New Year With Hope and Excitement.

This Week's Show is Dedicated to the Memory of Beau Yelsky, 1982-2006.
As a premature birth, Beau was infected with HIV through a blood transfusion soon after he was born. He spent all of his life dealing with doctors, medications, treatments, and one challenging disease after the other. The doctors did not expect him to live past the age of 6.
The warrior that he is, he made it to age 24 and put more into that life than most of us have by 60.
With a great heart, he is an inspiring role model for the healing power of the mind. I am honored to share with you a poem he wrote when he was at summer camp at age 14.
The Shining Warrior
A few months ago, a warrior began visualization.
He began by picturing himself surrounded by the shining light.
The warrior soon learned that the light was the Truth from inside.
He began to do the meditation every night, seeing the same light.
As he believed in himself, the light became brighter.
So each night the warrior got stronger and stronger
and so finally he became healthier.
Now he is the strong warrior,
that lives in each and every one of us,
that will never die.
Beau Yelsky, 1996
Age 14
Guest: Callers are the guests