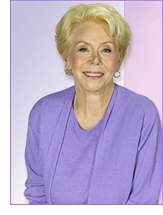 Topic: Louise Hay: 80 and Just Beginning
Celebrating Louise's Birthday and the Impact She Has Had on Individual Lives and On the World!
Guest: Shelley Anderson
Shelley is Louise's Personal Assistant, as well as creator & editor of the Louise Hay Newsletter.
Shelley Anderson has been the Personal Assistant of author Louise L. Hay since 1998. Until recently, Shelley answered over 10,000 letters and emails a year for Louise, corresponding with fans all over the world about Louise and her work, and "counseling" people on how to live life to the fullest with Louise's daily blessing. Currently, Shelley is the President of the ACPA – Association of Celebrity Personal Assistants – which meets once a month in LA. Shelley wrote a booklet for the ACPA about life as a celebrity assistant titled, What Was I Thinking?
Before moving to San Diego to raise her daughter (now 16 years old) in 1991, Shelley lived and worked in Los Angeles, most notably as the Executive Secretary to the President of Capitol-EMI Records. A native of Santa Barbara, Shelley has been reading the works of Louise Hay and other Hay House authors for many years prior to meeting Louise.
A classically trained singer, Shelley spent 20 years as a professional singer, actress, and teacher appearing on the soap opera "Days of Our Lives" and singing the lead in HMS Pinafore at the Kennedy Center in Washington DC, among many other venues.
Shelley is the creator and editor of the Louise Hay newsletter and website. She also created the website for Louise's charitable foundation, The Hay Foundation.
Websites: www.hayfoundation.org; www.louisehay.com