Topic: What is Wrong With GLAAD?

The premise and motivation of this week's show is based on a letter I wrote to the President of GLAAD (Gay & Lesbian Alliance Against Defamation), Neil Giuliano. Please read my letter, even if you are not able to listen to the show. You comments are always appreciated, even when you disagree with my position. Thanks. BTW: His response was that GLAAD sees no need to change the policy.
Even an Organization Needs a Good Therapist to Help Them Look Inside and Make Changes for Positive Growth. It Is Time That GLAAD Changed Some of Their Attitudes and Behaviors!
Guest: Karel, Radio Talk Show Host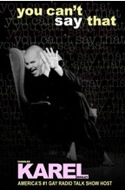 An accomplished singer, actor, comic, radio and television personality as well as an established journalist and writer he is a true Renaissance man. He has had to overcome huge personal obstacles including the loss of a partner while maintaining national media visibility through television and radio appearances.

Karel hosts a weekend drive time show on the #1 Talk Station in Northern California, KGO AM 810, Saturday and Sunday, 7:00 pm to 10:00 pm. Previously, He hosted a show for KFI AM 640 (home of Rush Limbaugh and Dr. Laura).
Karel has been called by USA TODAY "wildly popular and irreverent," declared by the L. A. Times to be "..the freshest breath of air Los Angeles radio has had in years..." called by Radio and Records "the new face of radio, the future of the format..." and picked by the Los Angeles Daily News as the "Radio Show of the Week, always entertaining." (June 21, 2000).
Website: www.karelchannel.com
Guest: Harrison, Radio Talk Show Host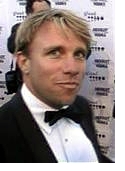 Harrison can be heard on Air America Progressive Talk Radio hosting his own show, "Harrison on the Edge."
As an award-winning syndicated investigative reporter, Harrison developed a reputation for uncovering news and issues that none of the other guys would touch. Harrison's subject matter is always edgy and unusual, ranging from serious to glib. Armed with a quick wit and hard facts, Harrison takes stories and interviews to the next level--ferreting out the bizarre, the conspiratorial and the phony, deliciously serving them up in fast-paced formats.
Website: www.goharrison.com