Topic: Coming Out Spiritually
We will be discussing the importance of healing our religious and spiritual wounds, as we seek greater peace and balance in our lives.

Guest: Christian de la Huerta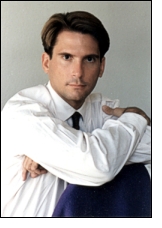 Christian de la Huerta is the author of the best-selling and critically-acclaimed Coming Out Spiritually. Chosen by Publishers Weekly as one of the ten best religion books of 1999, the book was also nominated for a Lambda Award. Christian's writing has appeared in OUT, The Advocate, Hero, Genre, and other publications.
In 1995 he founded Q-Spirit, a strategic organization catalyzing the necessary conditions for gay, lesbian, bisexual and transgendered people to fully reclaim their spiritual roles of service, leadership and community enrichment in the world.
Graduating with honors from Tulane University, de la Huerta holds a degree in psychology. He has been a speaker, seminar leader and retreat facilitator for the past fifteen years.
Read the statement he made at the 1997 Global Summit of the United Religions Initiative.