Topic: Marriage Equality: For GLBT Relationships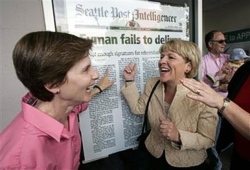 GOP still plans to make issue of gay marriage USATODAY.com -
Thu Jun 8, 7:12 AM ET
WASHINGTON - Conservatives had counted on the Senate's vote Wednesday on a constitutional amendment banning gay marriage to give them a boost, but political analysts say it's unclear whether the tally will add votes for Republicans this fall. Despite predictions by Sen. Wayne Allard, R-Colo., the amendment's chief sponsor, that the measure would garner 52 votes, it fell short of that and gained just one more supporter than in 2004, the last time it came up.

Guest: Amy Kobeta
Amy Kobeta is the Director of Public Affairs of the Arizona Human Rights Fund and Foundation. Her professional experience is primarily in political organizing, media and political messaging. Prior to joining AHRF, Amy worked in the Public Affairs Department at Planned Parenthood of Central and Northern Arizona for 5 years, and was the Director of Communications for the National office of Parents, Families and Friends of Lesbians and Gays. She served as Deputy Press Secretary for US Senator John Kerry from 1995 to 1997.
Amy sits on the Board of Directors for Emerge Arizona, a program that trains Democratic women to run for office, and is a member of the Advisory Council for Progressive Majority Arizona.
Raised in Philadelphia, she made Phoenix her home in 1998. She and her partner, Stef, married in 2005 and live in Central Phoenix with their dog and two cats.
Website: www.ahrf.org