Topic: Money, Money, Money!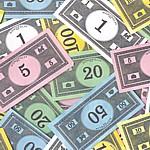 It may make the world go 'round but it can also make our heads spin and our guts explode!
Take a look at how our beliefs and behavioral patterns around money can impact our emotional, psychological and spiritual lives as well as our relationships.

Guests: Cristopher Lapp, Mortgage Broker
David Altschuler, Certified Financial Planner
Cristopher Lapp has been in the mortgage business for more than seventeen years. He is the owner of Mortgage Discount Services. Having personally arranged more than 600 million dollars, and closed over 3,500 residential and commercial escrows, Cristopher knows his stuff. "Interest rates are constantly changing, but at the end of the day with my clients, integrity, honesty and loyalty are what really matter!" Cristopher and his partner currently live in Santa Monica, CA.
David Altschuler is currently in his own practice in New York as a Certified Financial Planner and Investment Advisor. He also holds designations as a chartered Life Underwriter (ChFC), Chartered Mutual Fund Counselor (CMFC), Registered Health Underwriter (RHU) and holds a certificate as a Paralegal from Adelphi University.
Mr. Altschuler served as a financial talk show host on WMCA radio in New York from 1985-1986. He was an Adjunct Professor at Adelphi University in 1982-1983, where he taught courses on investments to students in the Certified Financial Planning Program. From 1980 to 1982 he was employed at C.W. Post as an Adjunct Professor of Corporate Finance.