Topic: What They Don't Teach You in College: A Graduate's Guide to Life on Your Own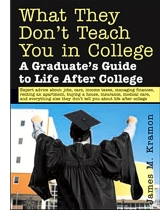 A crucial guidebook for new college graduates to help them navigate the every-day details of post-college life. The book is packed with practical "how-to" advice that a sympathetic lawyer, accountant, or professional would give to answer post-college life's most frequently asked questions.

Guest: James Kramon, Esq.
James M. Kramon, Esq. holds a law degree from George Washington University, and an LLM from Harvard University. He served as Assistant United States Attorney for the District of Maryland, and is now a managing partner at the firm of Kramon & Graham in Baltimore, Maryland.
Mr. Kramon has held various positions in bar associations and public-service organizations, and has taught courses at several law schools. He has been listed in Who's Who in American Law and The Best Lawyers in America.
Over the past thirty-five years, his clients have included billionaires and the underprivileged, international corporations and mom-and-pop businesses. He has provided legal advice on all the subjects addressed in the book to countless numbers of college grads. He wrote What They Don't Teach in College at the time his own son was finishing college and his daughter was graduating high school. He lives in Baltimore, MD with his wife, Paula.
Website: www.kramonandgraham.com