Topic: Treating Depression: There is an Alternative!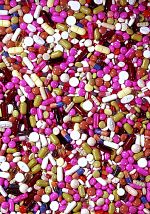 43 Million Americans are taking antidepressant drugs. In this day and age of popping pills for an "easy fix," alternative methods are drawing interest from people who are less than satisfied with conventional drug treatments. Many are looking for proven ways to change their lives with options and therapies that, when combined with conventional medicine, offer real improvement – even a cure.
Burton Goldberg's newest documentary, Curing Depression, Anxiety & Panic Disorder, shares expert advice on how to get off anti-depressant drugs by using natural, safe and effective alternative treatments. The DVD is an "information-dense, detailed and highly informative" collaboration of leading professionals from around the world on the use of medications, alternative treatments, and the root causes of depression.

Guest: Burton Goldberg, Author, Lecturer
Burton Goldberg's goal is to move society from a system of "sick" care to a system of "well" care. Goldberg, known as "the voice of alternative medicine" is on a mission to reform conventional medicine and to help people reclaim their health.
He's a dynamo, traveling, speaking, and teaching all over the country three weeks out of every month. He has appeared on TV in the U.S. and Canada, and has authored 18 books on alternative medicine. He is also a personal consultant for cancer patients and patients with other serious medical conditions who want to learn more about alternative medicine strategies.
His best-selling Alternative Medicine: The Definitive Guide, a 1,250 page reference work on how to treat 200 health conditions with alternative medicine, sold over 750,000 copies and has been hailed as "the bible of alternative medicine."
Goldberg's mission is to empower people with the information they need to make positive health choices and reclaim their health safely, without spending hundreds of dollars on conventional drug treatments.
Website: www.burtongoldberg.com