Topic: Hypnosis: What it is & What it is Not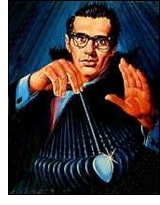 It may be surprising to many to learn that we experience trance states often during the course of our lives. Even passing into ordinary sleep involves a kind of trance state. The experience of hypnosis is similar: neither asleep nor awake and a little like daydreaming, with a pleasant feeling of deep relaxation behind it all. Hypnosis is a different state of consciousness which you can naturally enter so that, for therapeutic purposes, beneficial corrections may be given directly to your unconscious mind.

In this way, hypnosis is an effective way of making contact with our inner (unconscious) self, which is both a reservoir of unrecognised potential and knowledge as well as being the unwitting source of many of our problems.

It is a fact that no-one can be hypnotised against their will and even when hypnotised, a person can still reject any suggestion. Thus therapeutic hypnosis is a state of purposeful co-operation.

Clinical Hypnotherapy means using hypnosis to treat a variety of medical and psychological problems. It is estimated that 85% of people will readily respond to clinical hypnotherapy. It may even succeed where other, more conventional methods of treatment have not produced the desired results. When carried out by a professionally trained and skilled hypnotherapist, the benefits can be long lasting and often permanent. It is natural and safe, with no harmful side effects.
(source: British Society of Clinical Hypnosis)

Guest: Dr. James E. Walton, Ph.D.

Clinical therapist, newspaper columnist and radio talk show host, Dr. James E. Walton holds a doctorate in Clinical Psychology and a master's degree in Family Therapy. He's a licensed Marriage and Family Therapist and a member of the California Association of Marriage and Family Therapists.
Dr. Walton hosts KCSN 88.5's popular weekly psychology radio talk show, "Shrink Rap" on the air live every Tuesday night at 6:30 PM where he answers questions on relationships and other mental health topics along with interviewing interesting weekly guests. You can listen live on www.Shrinkbuzz.com.
He also writes a monthly newspaper column in "Thatz Entertainment" devoted to topics of interest on mental health and relationships helping listeners cope better, mentally and emotionally, with this ever changing world.
He is the writer/producer of the successful "Dr. Walton Series" self-help CDs which are available through various on-line outlets including iTunes.com, Tower.com and CDbaby.com. His writing may also be found in the National Library of Poetry.
Dr. Walton is a popular guest expert who regularly makes appearances on national television having been on VH-1's "Deconstruction" and Discovery Health Channel's "Berman and Berman Show." Dr. James Walton is a frequent guest expert on the "Greg Mantel Show" which is aired throughout the United States on local cable stations.
In the late 1980's, Dr. Walton joined Shirley MacLaine's staff in Beverly Hills helping to organize her national Higher-Self Seminar Tour promoting meditation and self-awareness.
Website: www.LAtherapist.com