Topic: Healing of the Wounded Spirit: Healing From Abuse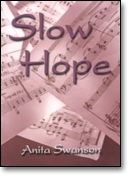 Slow Hope, Anita Swanson's debut nonfiction novel, is an intimate and accessible account of a young student nurse who, upon completing her second year of nurse's training, is certain that she loves only two things: music and a prominent thirty-six-year-old married Baptist Minister of Music.

It is a multi-layered love story that focuses, among other themes, on the church and its initial resistance to Psychotherapy. Slow Hope does not attempt to convert anyone, nor does it question the laws of leadership in the fundamental church. Slow Hope not only takes the reader on a journey through Christian fundamentalism, but also shows that as the author states "with ordinary courage and determination, oppression can be overcome and generational cycles of violence can be stopped."

Slow Hope is for anyone who needs to be reassured that there really is magic in the power of prayer and simply hanging on. This impassioned narrative teaches that we can learn, we can change, we can be forgiven and finally, that our faith can be restored..

Guest: Anita Swanson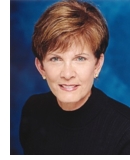 Born and raised in Minneapolis, Anita Swanson completed her nursing education at the Northwestern Hospital School of Nursing. Three years after graduation, she married and moved to Los Angeles. Following a complicated and rather stormy divorce from a high profile Baptist Minister of Music, she became a single mother and successfully raised two daughters on her own.
It was while the girls were still in high school that she became involved in the Los Angeles theater community and enjoyed success in a number of plays. She has appeared in regional and national television commercials, been featured on the children's show "Fudge," and participated in the prestigious West Coast Ensemble Theatre Company. Ms. Swanson is currently a member of the Screen Actors Guild. Over the years she has sung in numerous church choirs and for several years assisted as group leader of a Women's Bible Study.
After retiring from nursing, she studied non-fiction at the UCLA Writers Program and has attended numerous writing programs, including the distinguished University of Iowa Writing Program. Currently, she is an active member of the International Women's Writing Guild.
Her work has been published in Whispers from Heaven/Turning Points, The Chrysalis Reader, and Ship's Log: Writings at Sea. She was also recently selected as the first place winner for the 18th Annual Taproot Literary Review.
Now remarried for 18 years, she has retired from nursing but continues to write in Lake County, California, where she attends the First Baptist Church in Lakeport.
Website: www.slowhope.com