Topic: Chicken Soup for the Girl's Soul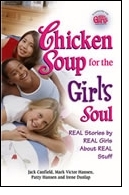 From Barbies to your first bra, from holding your teddy bear to slow dancing with your first boyfriend, from knowing everyone in elementary school to trying to make new friends in middle school. . . when dealing with these changes, it's no wonder preteen girls can freak out from time to time.
Consider Chicken Soup for the Girl's Soul your survival guide! From reading the true experiences of other preteen girls, as well as women who've been there, you'll see that you're not the only one who feels clueless and insecure sometimes. You'll read about tough subjects, such as peer pressure, cliques, divorce and loss, as well as fun "girls only" stories about friendship, embarrassing moments (these could take up an entire book!), body changes and first crushes. These stories will make you laugh, cry and realize that girl power is truly something to celebrate. You'll turn to this book again and again, whenever you need the advice only girls can give.

Guest: Patty Hansen

Patty Hansen is co-author of Chicken Soup for the Kid's Soul™, which since its release in 1998, has sold over two million copies. Contributor of some of the most loved stories in the Chicken Soup for the Soul® series, she is also the co-author of Condensed Chicken Soup for the Soul from Health Communications, Inc. and Out of the Blue: Delight Comes Into Our Lives, from HarperCollins.
With her best friend, Irene, Patty created Chicken Soup for the Preteen Soul, 101 Stories of Changes, Choices and Growing Up, to be relevant to the issues that kids face today. It is a book that kids, ages nine through thirteen, will love to read and also be able to use as a guide for everyday life.
Patty married Mark Victor Hansen and became the Chief Financial Officer for M.V. Hansen and Associates, Inc. in Newport Beach, California. She has remained her husband's business partner during their twenty one years of marriage. Currently, as President of Legal and Licensing for Chicken Soup for the Soul® Enterprises, Inc., she has helped to create an entire line of Chicken Soup for the Soul® products.
In 1998, Mom's House, Inc., a non-profit organization that provides free childcare for school-age mothers, nominated Patty as Celebrity Mother of the Year. In the spring of 2000, the first annual "Patty Hansen Scholarship" was awarded by Mom's House, funded by a $10,000.00 grant.
Patty shares her home life with her husband, Mark, their two daughters, Elisabeth, 15, and Melanie, 13, housekeeper and friend, Eva, three rabbits, one peahen, three horses, four dogs, five cats, four birds, one hamster, two lizards, twenty five fish, twenty seven chickens (yes, they all have names), a haven for hummingbirds, and a butterfly farm.
Website: www.chickensoup.com