Topic: Mistakes Couples Make:
Lying, Control, Jealousy and More!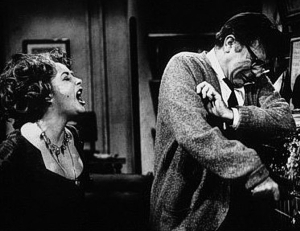 (photo source: Who's Afraid of Virginia Woolf" Elizabeth Taylor and Richard Burton; date: 1965; Photo by Bob Willoughby - All Rights Reserved, 1978 Bob Willoughby - Image courtesy MPTV.net )
Guest: Bethany A. Marshall, MFT
Bethany was born in Zaire, Africa on March 11, 1962. Twelve years later, her family returned to the United States. The daughter of missionary parents, Bethany grew up in an environment that fostered humanitarian concern. After obtaining a Bachelor of Fine Arts with a minor in opera from Judson College in Chicago, Bethany moved to California and graduated from Fuller Theological Seminary with a Masters of Divinity and a Masters in Marriage, Family and Child Counseling. She has a Doctorate of Psychoanalysis from the Los Angeles Institute and Society for Psychoanalytic Studies and is finishing a Doctor of Philosophy in Psychoanalysis.
Bethany has been in private practice as a Marriage, Family and Child Therapist in both Beverly Hills and Pasadena for the past seventeen years. She has been the relationship columnist for In Los Angeles magazine for the past 4 years and makes frequent television appearances as a contributing psychological commentator. She has recently appeared on CNN's The Nancy Grace Show and Anderson Cooper 360 and ABC's Good Morning America. She has been the host of "Dysfunction Junction", a relationship segment featured within "Harrison On The Edge" on SIRIUS, the nationwide satellite radio network and a recurring guest on Harrison's talk show on radio station KTLK in Los Angeles. KTLK is the Los Angeles affiliate for Air America, the new liberal talk network. She has also just become the relationship psychologist for Leeza Gibbon's new womens' issues radio show, Leeza Live, distributed by Westwood One in 65 markets (and growing).