Topic: Gay Marriage: Why it Matters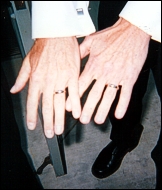 As of September 2005 in the United States, only the state of Massachusetts recognizes same-sex marriage, while California, Connecticut, the District of Columbia, Hawaii, Maine, New Jersey and Vermont grant persons in same-sex unions a similar legal status to those in a civil marriage by domestic partnership, civil union or reciprocal beneficiary laws.

Sixteen states have constitutional amendments explicitly barring the recognition of same-sex marriage, confining civil marriage to a legal union between a man and a woman. Twenty-seven states have legal statutes defining marriage to two persons of the opposite-sex. A small number of states ban any legal recognition of same-sex unions that would be equivalent to civil marriage.
On September 6, 2005, the California State Legislature became the first state legislative body to approve a same sex marriage bill authored by State Assemblyman Mark Leno. The legislation passed after an earlier defeat in the State Assembly in June of 2005. The legislation was, however, vetoed by California Governor Arnold Schwarzenegger on September 29.
(source: www.wkipedia.com)
Guest: Mark Leno, CA State Assemblyman, 13th District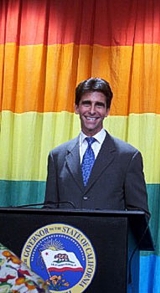 Elected in 2002, Assemblyman Mark Leno represents the 13th State Assembly District, which encompasses the eastern portion of San Francisco. He is one of the first openly gay men elected to the Assembly and served as Chair of the LGBT (Lesbian, Gay, Bisexual & Transgender) Caucus in 2004.

During his first term, Assemblyman Leno was successful in getting 28 bills passed by the legislature and signed into law, including laws that protect Californians from gender based discrimination in housing and employment, amend the Ellis Act to preserve affordable housing for seniors and the disabled, streamline the administration of rapid HIV tests to at risk populations, allow rehabilitated drug offenders to access food stamps and allow San Francisco to build large-scale solar systems on public buildings. He also served as chair of the Select Committees on LGBT Families and Childhood Obesity & Related Diabetes.

Leno's current legislative package includes proposals to allow California farmers to grow industrial hemp, reinstate parental rights for legal orphans, collect more information on the safety of taser usage, reform the three-strikes law, provide a funding source for the arts in California, reinstate San Francisco's vehicle license fees to pay for critical city services, sell hybrid vehicles over the internet, protect the local Dungeness crab industry, and allow gay and lesbian couples to marry in the state.

A native of Wisconsin, Leno attended the University of Colorado at Boulder, then went on to become valedictorian of his graduating class at the American College of Jerusalem, where he earned his Bachelor of Arts Degree. Leno also spent two years in Rabbinical Studies at The Hebrew Union College in New York. He is the owner of Budget Signs, Inc., a small business he founded in 1978 and operated with his life partner, Douglas Jackson. Together the two entrepreneurs steadily grew their sign business until Jackson passed away from complications relating to HIV/AIDS in 1990. This deep loss would not deter Leno. Instead, he redoubled his efforts in community service.
Website: www.markleno.com; www.azstonewalldems.com