Topic: Empowering Yourself By Embracing Your Creative Soul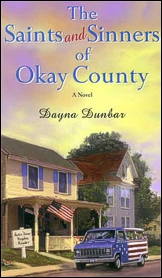 Guest: Dayna Dunbar, M.A.
Dayna Dunbar, Author & Teacher, has written more than six screenplays. She finished her first novel while completing her Master's degree in Spiritual Psychology at the University of Santa Monica, where she was named Student of the Year along with best selling spiritual author Iyanla Van Zant.
She sold her award-winning novel, The Saints and Sinners of Okay County, to Ballantine Books as part of a six figure, two book deal. Her second novel, The Wings That Fly Us Home, will be out in January of 2006.

Dayna teaches motivational workshops around the country based on her experiences of denying her own creativity for years then finally beginning to write and walking the path of owning her own divine feminine voice.
Dayna and I are both scheduled speakers at Celebrating the Divine Feminine Conference in Sedona, AZ September 16-18, 2005. Please join us!
Website: www.daynadunbar.com