Topic: Living in Two Worlds: The Life of a Crossdresser
Guest: Richard Novic, MD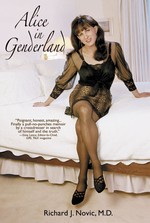 Transgender person and author of the first modern-day crossdressing memoir Alice in Genderland.
Richard Novic, M.D. is a psychiatrist practicing psychotherapy and psychopharmacology. In addition to his mainstream clientele, his patients include many transgendered, gay, lesbian, and bisexual people. He is a member of the Harry Benjamin International Gender Dysphoria Association and a columnist for GIRL TALK, a popular transgender magazine, where "Go Ask Alice," his tell-it-like-it-is advice column, has been a hit since its inception.
Alice in Genderland tells the story of Dr. Richard Novic, Harvard-educated psychiatrist and crossdresser. No memoir like it has ever been published. Most of the time, he is a man at the office or a husband and father at home. But, with his wife's support and blessing, one evening a week, she is a woman about town, shopping, dining, dancing, and dating a man for over five years.
Although he now leads a richly expressive life, Dr. Novic suffered since childhood with a secret, a desire he was in no way equipped to handle, but one that eventually burst through his denial, a few months before his wedding date. Just once, he felt, while he still could, he had to know what it felt like to be a woman.
Like Alice in Wonderland, his curiosity led him to fall headlong down a rabbit hole, through desperate straits, mind-opening surprises, heart-rending changes, and boundless love. By the time he was back on his feet, he was a different person, living a lifestyle he hadn't known existed. Anyone who has struggled to figure out who they are and how they want to live will see himself or herself in this powerful life story.