Topic: Success: Define it for yourself!
This week's show is dedicated to my nephew Max, in honor of his high school graduation. Congratulations, Max and many more successes throughout your life! I love you.
Guest: Lenwood Patterson, B.S.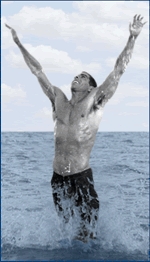 "I am a 41 years old African-American Gay male who thrives with HIV/AIDS for the last 17 years and 15 years of recovery from both drugs and Alcohol. I am a survivor of incest and sexual abuse along with sexual violations from my mother. My mother also abused me physically, spiritually and psychologically. My father's only crime was neglect. They both suffered from the disease of alcoholism. I have two brothers who also suffer from this same devastating disease of drug addiction.
Today not only do I have 15+ years of recovery, I have also obtained a Drug and Alcohol Counselor's Certificate and Associate of Arts Degree from Los Angeles Community College in Human Services. I have been working with the substance abuse and HIV/AIDS population for the last 13+ years of my life and currently working at ALTERNATIVES as the primary Substance Abuse Counselor. I have been employed there for the last 9 years. I have worked with a multiple of populations including families, adolescents, parole and probation and the Gay, Lesbian, Bisexual and Trans gendered from various cultural backgrounds. On Sunday, June 12, 2005 - I will receive a Bachelor's of Science in Psychology from California State University Los Angeles. I am the first in my immediate family to receive such a degree."
Website: www.gayalternatives.com