Topic: Getting Older or Getting Better With Age?
Middle aged Baby Boomers and senior citizens have a choice. Can a different kind of fulfillment be found and a greater sense of wisdom come with the aging process?

Do you want to be old or do you want to be an elder of your community?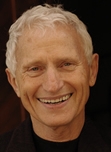 Guest: Hal Milton
Hal is the author of Wising Up, Life Without Regrets. Wising Up is for everybody: the middle-aged, aging boomer, and anyone interested in Wising Up and living more consciously.
Website: www.halmilton.com