Topic: The Insanity of 'Don't Ask, Don't Tell'
This week's show is dedicated in honor of my nephew Gabriel Grisham who will be celebrating his Bar Mitzvah on May 7 in Atlanta, Georgia. Since I will be attending this event on that Saturday, the station will be repeating a previously aired "Tell The Truth, Faster!® Congratulations, Gabriel!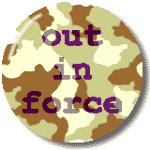 Guest: Steve May
On July of 1999 the US Army began proceedings against Lieutenant May under the "Don't Ask, Don't Tell" law that forbids military members from disclosing their homosexuality. Though his sexual orientation had been public record and widely reported in the media since 1996, the Army ordered him into reserve service and then tried to discharge him. Steve fought the attempted discharge for two years until the Secretary of the Army unexpectedly intervened and allowed him to complete the tour of duty to which he was called. Steve's case highlighted the lunacy of the Don't Ask Don't Tell policy.
Steve May was elected to the Arizona House of Representatives in November 1998 and re-elected in November 2000. He represented Arizona's 26th District comprised of 170,000 residents in East Phoenix, Scottsdale, Paradise Valley and North Tempe. He was raised in the area he now represents and currently lives in Paradise Valley.
Representative May was the Chairman of the Ways and Means Committee, responsible for taxation and fiscal matters. He also served on the Joint Legislative Budget Committee, the Commerce and Economic Development Committee and the Financial Institutions and Insurance Committee. He is well known for his advocacy of limited government, equitable taxation, the right to privacy, public education, property rights and civil rights.
Steve is the Executive Vice President and Chief Operating Officer of Wisdom Herbs, manufacturers and marketers of Wisdom of the Ancients® Herbal Teas, Instant Wisdom™ Instant Tea and SweetLeaf® brand Stevia supplements. Wisdom Herbs® was founded by his father, Jim, in 1982 and is owned by Steve and Jim. The company has 25 full time employees in the United States and Paraguay and sells products in about 7000 natural food and grocery stores throughout the country.
Steve served in the US Army's First Infantry Division from 1993-1995 as a Nuclear, Biological and Chemical Defense Officer after graduating as a Distinguished Military Graduate through ROTC. Before leaving active duty as a first lieutenant he served as an infantry assistant battalion operations officer, chemical smoke platoon leader and chemical company executive officer. He is one of very few qualified as a nuclear submariner (Silver Dolphins, USS Ohio, 1990) and paratrooper (Airborne, 1992). Steve was honorably discharged in 1995, but was recalled to the US Army Reserve in February 1999. He served as the executive officer of a fuel transportation company until his honorable discharge in April 2001.
Website: www.wisdomnaturalbrands.com