Topic: Gay, Lesbian, Bisexual, Transgender Rights & Freedoms: Is There a Place in America?
Guest: Don Kilhefner, Ph.D.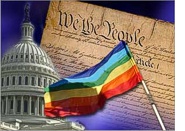 Don Kilhefner is the co-founder of the Los Angeles Gay Community Services Center (1971) and Van Ness Recovery House, the first residential alcoholism and drug treatment program. The Los Angeles Gay Community Services Center on Highland Avenue in Hollywood moved from its original home on 6th Street near downtown Los Angeles.
In 1979 Don Kilhefner co-founded a spiritual movement known as the Radical Faeries. This pagan-inspired group continues internationally based on the principal that the consciousness of gays differs from that of heterosexuals. Don also organized a Coors boycott in Los Angeles.
"For a long time gays have been trying to minimize our differences from heterosexuals as an act of survival. But now, for the first time in history, gay people are being urged to begin maximizing our differences from straights as an act of love, to ourselves and to them."
Website: www.corporations.org/coors