Topic: When an Election Doesn't Go Your Way
The personal impact on the candidate and how political and current events like this affect the voters and the emotional well-being of a society.
Guest: Miguel Bustos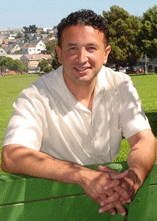 Miguel Bustos ran and lost (to an incumbent) in his effort to be elected as Supervisor for District 9 in San Francisco.
He graduated from The American University with a Masters Degree in Political Science, concentrating on Conflict Resolution and Community Development. His Master's Thesis centered on the "personal to political" transformation in the lives of South African Apartheid Activist, Archbishop Desmond Tutu; Central American and Indigenous Liberation Leader, Archbishop Oscar Romero; and Green Party Founder in Germany, Petra Kelly.
After graduation, Miguel was appointed to serve as one of four youth advisors to President Clinton on Youth and HIV/AIDS. Together, they wrote a policy report entitled "Youth and HIV/AIDS: An American Agenda," that investigated concerns relating to the physical and mental health issues of adolescents regarding HIV/AIDS. The report furnished recommendations on AIDS policy to the President, Members of Congress, local officials, and various leaders who can influence the lives of young people.
In 1997, Miguel was promoted to the Office of the Vice President and became Policy Advisor to Mrs. Gore. He advised Mrs. Gore on issues relating to health (SIDS, AIDS, Cancer and Physical Fitness), education (Higher Education and Technology) and community development. In addition, he served as one of the Vice President's key advisors and liaisons to the Latino, Native American and LGBT Communities.
In 2000, Miguel returned home to serve as Director of Community Affairs for Northern California for California's Coordinated Gore/Lieberman Presidential Campaign. Miguel developed and oversaw the implementation of Gore 2000's Campaign's Outreach and Inclusion plan for the Bay Area. He successfully built relationships with constituency groups; especially faith based communities and communities of color. In addition, he focused on registering more voters and engaging women and communities of color in civic activities and the political process.
Website: www.miguelbustos.com