Topic: Kerry/Edwards 2004 Part 3:
The Push for the Arizona Swing Vote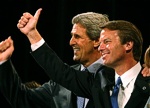 Arizona is considered a "Swing State" and I plan to use my air-time to get the word out so John Kerry and John Edwards will have a better chance of winning Arizona's electoral votes. I am helping by offering 4 free hours of radio time and I need your help to maximize the effect.
Guest: Peggy Kerry
John Kerry's sister has been getting her brother involved in public causes for a long time.
Peggy Kerry was well-known as a lobbyist working the halls of state government in Albany for nonprofit groups seeking

money for the homeless and better welfare benefits. She has also worked for the New York Civil Liberties Union and Planned Parenthood.
As a youngster she got her little brother to help her sell political campaign buttons. Later, she would get him actively involved in the anti-war effort after he returned from Vietnam Asia with medals and a growing anti-war sentiment.
Now, Peggy Kerry is a member of New York's delegation to the Democratic National Convention in Boston. In between campaigning for her brother, she has a full-time job with the US mission at the United Nations in Manhattan.
(Copyright 2004 by The Associated Press. All Rights Reserved.)
Website: www.johnkerry.com