Topic: Society's Throw Away Kids
Lesbian, Gay, Bisexual and Transgender Teens rejected by families, abused in schools, and often left to their own devices to survive.
What can be done to help them and what can we do to make our society a more accepting and compassionate place.
Guest: Teresa DeCrescenzo, MSW, LCSW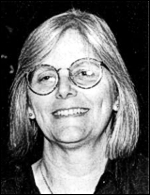 Teresa DeCrescenzo, MSW, LCSW, is Founding Executive Director of Gay and Lesbian Adolescent Social Services (GLASS) in West Hollywood, California, which owns and operates five licensed group homes for sexual minority youth and HIV-infected teenagers and places children of all ages in loving foster homes. Ms. DeCrescenzo is also a psychotherapist in private practice and is an Instructor in the Graduate School of Social Work at California State University at Long Beach.
Website: www.glassla.org