Topic: Anger Management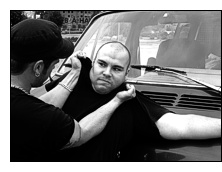 Does anger get the best of you? Does it cause you to lose concentration, control, or damage relationships? On this show, discover how to manage your anger quickly and easily, for good.
Guest: Jim Walton, Ph.D.

Dr. Walton is the creator of a highly popular self-help series. Dr. Walton is a California licensed Family Therapist holding a Ph.D. in Clinical Psychology, a Master's Degree in Family Therapy, and Certification in Clinical Hypnosis. In the mid 1980's, Dr. Walton joined Shirley MacLaine's staff in Beverly Hills helping to organize her national Higher-Self Seminar Tour. He is also a member of the California Association of Marriage and Family Therapists and a popular guest expert who has made appearances on national television including VH-1's show "Deconstruction" and Discovery Health Channel's "Berman and Berman Show."
Dr. Walton brings over 17 years of counseling experience to his clients. His treatment methods emphasize Systems Theory, Cognitive-Behavioral, Object Relations and Jungian approaches. Dr. Walton's methods focus on developing highly functional relationships through enhancing communication and interpersonal skills. His patients achieve deeper meaning and understanding in life through exploration of personal myths and dream analysis. Dr. Walton is a member of the California Association of Marriage and Family Therapists and a Diplomate of the American Psychotherapy Association.
Dr. James E. Walton, Ph.D. received his Doctorate in Clinical Psychology from the Pacifica Graduate Institute in Santa Barbara, CA. He received his Masters Degree in Family Therapy from The Phillips Graduate Institute in Los Angeles. In addition, Dr. Walton holds a Masters Degree in International Management from The American Graduate School of International Management, also known as The Thunderbird School, Glendale, AZ. Dr. Walton completed hypnosis training at the Hypnosis Motivation Institute in Los Angeles.
Websites: www.hypnocd.com & www.LAtherapist.com