Topic: Religion & Homosexuality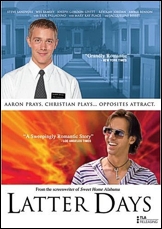 Latter Days, a film about a gay Mormon missionary, opened in theaters late January amid controversy, after winning praise on the gay film festival circuit. The movie offers a strong critique of Mormonism's stance on homosexuality, as viewers see Elder Aaron Davis, the missionary, struggle to come to terms with being gay, suffer rejection from his family, endure an excommunication trial and aversion therapy, and ultimately fail to reconcile his religion with his sexuality.
But the film also shows how faith can have a positive effect, as the gay party-boy character, Christian, embarks on his own search for meaning after meeting Aaron.
Guest: C. Jay Cox

Nevada-born and bred, C. Jay Cox knew from the time he was six years old that he wanted to make movies. After arriving in Los Angeles in 1984, he performed in theater before making his screen acting debut in the horror film The Offspring (1987), starring Vincent Price.
At the same time, Cox was trying to make a name for himself as a screenwriter. Although he'd had some screenplays produced as small budget films, in 1997 he was asked by producer Stokely Chaffin to work on the script for what would become Sweet Home Alabama (2002), starring Reese Witherspoon. The romantic comedy was a huge hit, earning over $127 million at the U.S. box office alone.
Cox decided to direct his next screenplay, called Latter Days (2004), himself. Made on a small budget, the story of a sexually aggressive, homosexual party animal who falls for a young Mormon missionary won the Audience Award for Outstanding First Narrative Feature at the L.A. Outfest and the Audience Award for Best Feature - Gay Male at the Philadelphia Gay & Lesbian Film Festival.
Website: www.latterdaysmovie.com