Topic: Saying Good-bye to Friends & Other Loved Ones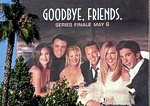 Friends parted ways with viewers Thursday evening, with the cast moving out of their rent-controlled New York apartment, each leaving behind a door key.
It was America's last chance to bid farewell to Rachel (Jennifer Aniston), Monica (Courteney Cox Arquette), Chandler (Matthew Perry), Joey (Matt LeBlanc), Phoebe (Lisa Kudrow) and Ross (David Schwimmer).
The much anticipated finale episode on NBC signed off with an episode of surprises. But one story line turned out exactly as fans expected. Ross and Rachel realized they loved each other and pledged to stay together "for good."
The final episode followed an hour long retrospective that featured favorite scenes of each character. The special began with interviews taped before the first episode aired, and ended with new interviews and scenes from the show's final curtain call.
(source: cnn.com May 7, 2004)
Guest: Callers are the guests