Topic: You Do and I'll Sue You!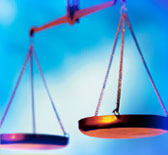 We live in a society where, increasingly, people choose to go to court rather than communicate, negotiate or mediate to solve conflicts and disagreements. Spouses are suing each other, kids are suing their parents, friends take each other to court after years of friendship. Even business partners destroy viable businesses over minor legal issues and doctors and other professionals are taken to court often because an individual cannot accept an illness or the doctor's and technologies limitations.
Tonight we will discuss the emotional, psychological and spiritual harm this is doing to our relationships, our society and ourselves.
Some words of wisdom offered by Texans Against Lawsuit Abuse: "Talk before you fight. Don't "sue thy neighbor.' Try mediation or arbitration to resolve disputes. Conflicts are inevitable in our society, but lawsuits should be the last resort. Encourage personal responsibility in our community. Too often, people look for an outside culprit to blame when something bad happens to them, even if they are personally negligent."
Guest: Maria Crimi Speth, ESQ.
Ms. Speth, a member of the law firm of Jaburg & Wilk, P.C., practices in the areas of intellectual property, and commercial litigation, representing clients throughout the United States. She focuses her practice on assisting businesses in protecting their trademarks, copyrights, trade secrets, information technology, and other intellectual property through preventative measures to avoid disputes and through aggressive measures when disputes arise.
Ms. Speth received her B.A., cum laude in 1985 from Hofstra University and received her J.D. in 1988 from Hofstra University School of Law. She is admitted to practice in the State of Arizona Supreme Court, the Appellate Division of the Supreme Court of the State of New York, the Federal District Court for the District of Arizona, the Federal District Court for the Eastern District of New York, the Federal District Court for the Southern District of New York, the United States Court of Appeals for the Ninth Circuit, the United States Court of Appeals for the Federal Circuit and the Supreme Court of the United States of America.
Ms. Speth has authored articles on the topics of litigation and intellectual property, published in The Business Journal, the Arizona Journal of Real Estate & Business, and the Arizona Attorney. Her profile has been featured in the Arizona Business Gazette and The Herold Report. In October of 2000, the readers of Arizona Women's News voted Ms. Speth best business attorney in Arizona.
Ms. Speth has represented clients in numerous published and precedent setting cases, including People v. Cisco, 514 N.Y.S.2d 796 (App. Div. 1987), People v. Seaton, 514 N.Y.S.2d 417 (App. Div. 1987), Gasho v. United States, 39 F.3d 1420 (9th Cir. 1994), cert. denied, 515 U.S. 1144 (1995), Barnes v. Outlaw, 188 Ariz. 401 (App. 1996), Time Warner Cable of New York City, a Div. of Time Warner Entertainment Co., L.P. v. Cable Box Wholesalers, 920 F. Supp. 1048 (D. Ariz. 1996), Barnes v. Outlaw, 192 Ariz. 283 (1998), Brown v. 3M, 265 F.3d 1349 (Fed. Cir. 2001), cert. denied, 122 S.Ct. 1436 (2002); Young v. Johnson, 201 Ariz. 61 (App. 2001). She is a certified member of The Million Dollar Advocates Forum.
Ms. Speth is the Chairman of the Board of Directors of Safe Haven, Inc., a non-profit community redevelopment organization.
Ms. Speth has presented seminars for the State Bar of Arizona, the Arizona Small Business Association, The Inventors' Association of Arizona, National Business Institute, and Lorman Education Services. She is on the faculty of the internationally acclaimed IBI Forum. She has also been a guest speaker on television and radio shows addressing intellectual property protection topics.
Website: www.jaburgwilk.com