Topic: Self Esteem 2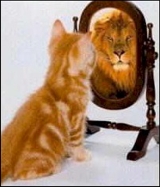 Self esteem does not mean seeing yourself as the greatest person in the world. It's not the same as being conceited. Healthy self esteem means liking yourself, for the most part, as you are. You can have OK self esteem and still have occasional bouts of self doubt. How you feel about yourself depends on who you compare yourself with. Healthy self esteem means thinking as highly of yourself as you think of your peers. Excessive self esteem = being over confident or complacent. OK self esteem is compatible with humility. Humility is not the same as self-effacement. The right balance should place you mid-way between grandiosity and self-effacement.
To maintain healthy self esteem:
Forgive yourself for your mistakes.
Celebrate your strengths and achievements.
We are so used to negative feedback that we are more aware of our weaknesses.
Set achievable targets and get regular feedback.
Change the way you talk to yourself - stop putting yourself down.
Be sure that you are not judging yourself against unreasonable standards.
Beating yourself for your weaknesses is self-defeating.
Take an easy self esteem test here.
(source: www.leadersdirect.com)
Guest: Callers are the guests