Topic: The War in Iraq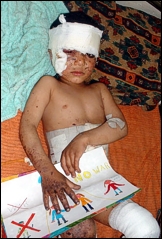 How the events of the world like the Iraq War affect our mental and spiritual health.
News of the Iraq War: The United States and Britain pummeled Iraq with fusillades of missiles and waves of bombs Friday and Saturday as the Pentagon's "shock and awe" phase of the war blasted hundreds of targets with immense force.
On the ground, an entire division of Iraqi soldiers - at least 8,000 regular army troops - surrendered to the U.S. Marines in southern Iraq, officials said. Other troops gave up so eagerly that they turned themselves in to journalists accompanying American forces.
As "shock and awe" began, explosions Friday rocked Baghdad, a city of 5 million people, and the northern cities of Kirkuk, Tikrit and Mosul. A halo of smoke hung in the sky, and the streets were eerily deserted.
After an overnight reprieve, the bombing of Baghdad - televised worldwide - resumed at first light today.
On Friday, thunderous airstrikes had stunned other cities as well. Iraq's elite Republican Guard forces reportedly suffered casualties.
Kurdish officials said U.S. forces fired five missiles Friday at the base of an Islamic militant group in northern Iraq allegedly linked to the al-Qaida terrorist network.
Washington has claimed that the group, Ansar al-Islam, connects Saddam Hussein to al-Qaida. The Kurds also say Ansar al-Islam could be an obstacle in any U.S.-led offensive on Hussein through the north.
In all Friday, the Pentagon said more than 1,500 missiles and bombs rained down.
"I'd like to put my name on one of them," said a crew member on the USS Harry S. Truman, an aircraft carrier that launched warplanes.
Much of central Baghdad's governmental sector - including Hussein's sprawling presidential palace compound along the Tigris River, the prime minister's office and the cabinet's building - was ablaze.
(source: CNN.com)
Guest: Callers are the guests