Topic: Bisexuality 1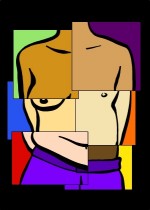 Embracing a full range of sexual expression.
Although observed in a variety of forms in most societies throughout recorded history, bisexuality has only been the subject of serious study since the second half of the 20th century, and some disagreement remains about its prevalence and nature.
Self-identified bisexuals, like people of any other orientation, may live a variety of sexual lifestyles. These include: lifelong monogamy, serial monogamy, polyfidelity, casual sexual activity with individual partners, casual group sex, and celibacy. For those with more than one sexual partner, these may or may not be all be of the same gender.
Some bisexual people consider themselves to be gay or lesbian, on the basis that, for example, a "lesbian" might be defined as: any woman who is attracted to women (even one who is also attracted to men) or a woman who is primarily attracted to other women, a looser official definition of lesbian. Some lesbian and gay people object to this, asserting that exclusivity is part of the definition. Many bisexuals consider themselves distinct from homosexuals but part of the larger LGBT or queer community. Other bisexuals may be supportive of lesbian and gay people, but still consider themselves straight.
Bisexual orientation can fall anywhere between the two sexual orientations of homosexuality and heterosexuality; a bisexual person is not necessarily attracted equally to both genders, and many tend to prefer one or the other. Another view of bisexuality is that homosexuality and heterosexuality are two monosexual orientations, whereas bisexuality encompasses them both.
(source: Wikipedia.com)
Guest: Greg Carlsson, MA, MFT Intern
Greg Carlsson is currently a Marriage and Family Therapist Intern, in North Long Beach with The Los Angeles Housing Authority's Community Development Commission. He is also in a private internship in Pasadena.
For over fifteen years Greg has advocated and developed programs for "at risk families" here and abroad in Amsterdam's infamous Red Light District.
Four years ago, while in graduate school, Greg began researching, developing and implementing programs focusing on bisexuality, an area in the psychological community that is rarely discussed. Besides having his graduate paper on bisexuality published, Greg 's workshop on Bisexuality has been implemented in high schools, colleges, graduate-schools, seminaries and at professional psychological conferences throughout the state.