Topic: Teens, Lost on the Street Part 2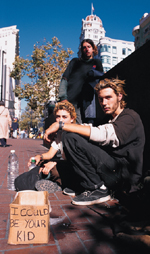 Fully 88 percent of the street teens reported panhandling to support themselves, 62 percent reported stealing, half said they had dealt or carried drugs and 42 percent reported prostitution. In contrast, only 25 percent of sheltered teens reported panhandling, 21 percent stealing, 17 percent selling drugs and none engaging in prostitution.
Health problems - including strep throat, bladder infections, anemia, malnutrition, venereal diseases, stomach ulcers, hepatitis, scabies and substance abuse - also were much more prevalent among the street teens.
Every one of the street teens was sexually active, compared with 75 percent of the sheltered teens. Both groups were aware of safe sex practices, but 46 percent of street teens and 32 percent of sheltered teens reported having had unprotected sex within the past six months.
"We may speculate that for these teenagers, the problems of living on the street overshadow the specter of AIDS," the researchers said. "As one 16-year-old explained, 'Why would I worry about dying from AIDS in the future when I don't know if I'm going to survive until tomorrow?' "
What street teens did fear was being sent home or placed in custodial care. The fear was well grounded: Service providers are mandated to notify parents or civil authorities of a teen's request for assistance, and agencies can provide shelter for only a limited period without such notification.
"Street teens were interested in obtaining assistance, but they were reluctant to make lasting commitments to get such help," the researchers said. "Almost no street teens expressed an interest in family re-unification or residential placement."
Instead, street teens were interested in help without strings attached: a place to sleep, a job or job training, food, a place to clean up, medical and dental care, and counseling.
(more info available on 07/03/02)
(source: Stanford University News Service)
Guest: Jim Michael
Jim is a consultant, a professional counselor, and a Marriage and Family Therapist (MFT) Intern. He also is a Domestic Violence Prevention counselor at Tarzana Treatment Center. He works in private practice under supervision. He also is a certified Hypnotherapist using hypnotherapy for stress reduction, relaxation techniques, unique dream work understanding, and motivation for change.
He is a pre licensed member of the California Association of Marriage and Family Therapists (CAMFT), and is on the board of directors of the Los Angeles CAMFT (LA CAMFT) and the Lesbian and Gay Psychotherapy Association of Southern California (LAGPA). He has won awards for outstanding service for his work in the field in Domestic Violence Prevention.

He received his education, training and professional experience in psychology, personal training and hypnosis in the greater Los Angeles, CA area. He earned his Master's degree in Counseling Psychology from the University of Santa Monica. He earned his Certification in Hypnotherapy from the New Focus Institute for Hypnotherapy.
While most of his undergraduate degree was obtained at the University of Arizona (UA) in Tucson, AZ, he graduated from Ryokan College with a Bachelor's Degree in Human Behavior. He also has a certification in Stress Management and has a strong interest in the "mind/body" (psychoneuroimmunology) connection.
Through his experiences and education, he has come to a holistic, self-actualizing focus of Therapy, one which includes the body, the mind, the heart, and the soul (Psyche actually means "spirit" or "soul" and the word "Psychology" actually has diverged from it's root word and means the study of "mental processes" and "human behavior").
From this perspective, he views you as the one with the answers to your questions. He can show you things, provide tools for you to use, but ultimately it is you who holds the key, the answers to your life and what you want.
Website: www.jimmichael.com