Topic: Gay Pride 2002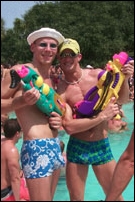 What are we celebrating & what have we turned into?
Guest: Ian Stulberg, MSW
Ian Stulberg received his MSW in 1986 from UCLA, where his master's research thesis was on the Psychosocial Impact of the AIDS Epidemic on the Lives of Gay Men.
He has worked as a clinical social worker on immune suppressed units in Los Angeles area hospitals, and, for seven years, served as the Manager of Mental Health for AIDS Service Center in Pasadena.
For the past three years, he has worked for the L.A. Gay and Lesbian Center's Mental Health Services program as Manager of Education, Training and Operations. In 2001, he received the Community Service Award from the Lesbian and Gay Psychotherapy Association of Southern California.