Topic: The Men's Movement
Men living powerfully from the heart and soul.
Guest: Daniel Foster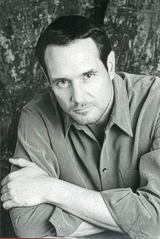 Daniel Foster has led empowerment rituals and sweat lodges at the California Men's Gathering for the past six years. He also has worked with shamans in the lower Amazon for three years.
His studio, Eye Awake produces video dedicated to world image and world soul. Eye Awake has created art and culture videos for Novica in association with National Geographic Society covering Novica¹s operations in Thailand, Cambodia, Ghana West Africa and Indonesia.
Daniel's articles and essays have appeared in the Los Angeles Times, San Francisco Chronicle, various national magazines, and on National Public Radio and Marketplace Radio.
Website: www.eyeawake.com