Topic: Celebrity Breakups: Chuck Finley vs. Tawny Kitaen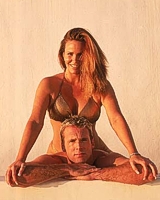 He was a baseball star. She was a rock video babe. This duo seemed to be a great combination of beauty and brawn.

Finley had enjoyed a 17-year career in Major League Baseball. He was a five-time All-Star, having struck out more than 200 batters in three separate seasons. He had finished 7th in the American League Cy Young Award voting in 1990.

However, things weren't quite as successful at home. His marriage to Tawny, a former Sports Illustrated swimsuit model, had turned ugly. Both husband and wife accused each other of abuse. Among other allegations, Finley told the court that Tawny had gouged him with a high-heeled shoe; she eventually pleaded no contest to spousal abuse.

In 2002, Finley filed for divorce and stopped giving his ex money. She subsequently filed a $12 million lawsuit, claiming that Finley had broken a promise to financially support her.

Finley made almost $8 million in 2002. This case is still pending.
(source: www.askmen.com)
Guest: Stuart Altschuler as a guest
Stuart guests on Scott Bracken's sports radio show The Score to discuss the price of fame on celebrities when their personal life goes awry.