Topic: Giving Advice: Do it from the Heart
Guest: Geoffrey Karen Dior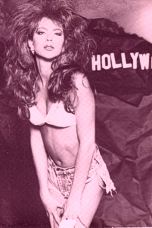 The notorious, singer/actor/performer/author Geoffrey Karen Dior (aka Karen Dior, Rick/Ricky Van, Geoff Gann) is a multi-talented phenomenon! A media darling with a remarkable array of talents, he has guest-starred on television with Lucy Lawless (Xena: Warrior Princess), Loni Anderson (The Price She Paid) and was featured as a recurring character on Head Over Heels (UPN), The Commish, Red Shoe Diaries V and has appeared on numerous talk shows. He was in the features A River Made to Drown In (with Richard Chamberlain) and Just Add Love (with Wendy Malik). He also has done commercials for Braun razor, Fox Sports West and Bud Lite.
Karen is a favorite of the world's top designers, celebrities and press. His print and runway modeling; live solo performances and membership in the bands The Johnny Depp Clones and Goddesses; and his encounters with stars (Drew Barrymore, Gerardo, kd lang, Janet Leigh, John Candy, Madonna, Hugh Hefner, David Faustino, and more) have been extensively chronicled.
Featured this year in Entertainment Weekly, The Advocate, POZ, The Globe and a dozen other outlets, The Hollywood Reporter called his CBS-TV movie role opposite Loni Anderson "an eerie prison Juliet...beautifully cast."
Karen's AMAZING ability to be convincing as a man OR a woman made him the only choice for his roles in television and feature films. He was picked for the guest-starring role of Miss Artiphys, on Xena: Warrior Princess after an exhaustive search by the producers for the perfect person to pull off a fabulous plot twist.
As the only drag queen performer and the youngest director to be inducted into the Adult Video Hall of Fame, he has been called "the Woody Allen of adult video" AND "the next John Waters" by Adult Video News. Karen's collection of awards and accolades is staggering. He was recently awarded the fiercely coveted title of "Miss Gay United States."
His live performances have stunned audiences the world over. This artist of a thousand faces (most of them female) sings LIVE on original and popular dance numbers, presents fascinating interpretations of pre-recorded tunes and makes an engaging hostess for all occasions. Often performing with porn-boy dancers, the eroticism of Dior's shows have even been considered scandalous.
Dior was recently honored for his accomplishments and philanthropy at a celebratory roast. He has donated time and talent for virtually every West Coast AIDS charity. Citing the desperate need for the adult industry and the general public to more clearly acknowledge this issue, Karen is working on a porn video to benefit AIDS causes, helping to set up a fund to help stars and employees in the business, and continuing to make appearances to raise awareness.