Topic: Homophobia: How it Affects Kids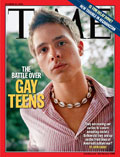 Billboards posted up and down California's Central Valley last summer screamed PROTECT OUR CHILDREN FROM THE HOMOSEXUAL ASSAULT. The billboards served their purpose: the California legislature caved in to pressure and killed a bill to protect lesbian, gay, bisexual and transgender (LGBT) youth from violence in the public schools.

From Anita Bryant in the seventies to this year's Knight Initiative, the constant, consistent message from the anti-gay right is: gay men and lesbians are a threat to society and to children.

This is the Big Lie technique: repeat a falsehood until it comes to be accepted as true. It does not matter to our opponents that there is no valid evidence to support the statement, because the statement -- whether expressed outright or implied -- works.
(source: Peter Teague, Horizons Foundation)
Guest: Stuart Altschular
Stuart's guest appearance on Peggy LeMire's KFNX show State of Mind.