Topic: Narcissists: Not Self Love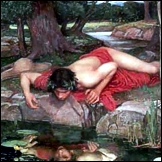 Narcissism, in human psychology, is the pattern of thinking and behaving which involves infatuation and obsession with one's self to the exclusion of others. It may be seen manifest in the chronic pursuit of personal gratification and public attention, in social dominance and personal ambition, braggadocio, insensitivity to others (lack of empathy) and/or excessive dependence on others to meet his/her responsibilities in daily living and thinking.
The narcissist has an unhealthily high self-esteem. For the narcissist, self-worth is the belief that he/she is superior to his/her fellow humans; it is not enough to be "okay" or "pretty good," the narcissist can only feel worthwhile by experiencing him/herself as the "best". From childhood through adulthood, this narcissistic belief may be reinforced by others to the extent that the narcissist is actually competent, intelligent and/or attractive, or is manipulative enough to get others to make him/her seem competent, intelligent or attractive.

The narcissist most often comes to the attention of the mental health profession when, beset by some personal failure or having otherwise become aware of his/her lack of superiority, he/she falls into an acute depressive or anxiety state, or even becomes temporarily psychotic. Unfortunately, the emergence of such states has often been misinterpreted by mental health professionals as a sign that the narcissist fundamentally suffers from low self esteem. As a result, psychotherapy often ends up simply restoring the narcissism rather than helping the patient accept his/her true equality and mortality.
Conversely, narcissists who are repeatedly confronted with their own human limitations - often due to a lack of skills, intelligence, looks or social support necessary to maintain external reinforcement of their ultimate superiority - may become frustrated, angry and even dangerously aggressive. At this point, the narcissistic may evolve into a sociopath.
(source: Wikipedia the online encyclopedia)
Guest: Callers are the guests