Topic: Life Coaching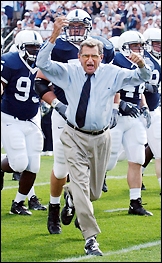 Life Coaching is an empowering relationship wherein the client and coach become a team, uncovering and focusing on what matters most to the client and designing the strategies and action plans which allow the client to achieve the things they most value, want, and need.
Through the skills, creativity, accountability, and support which a coach provides, clients are able to take more actions, make clearer decisions, think bigger, and achieve more than they have before.
Coaches are trained in the use of listening, questioning, and dialoging powerfully as a means to assisting the client to design and create a life that they find satisfying and fulfilling in all its aspects. Some potential areas of focus might be career, relationships, personal development, balance, stress reduction, organization, and time management.
Coaching is proven to work when there are two factors present:
There is a gap between where the client is now and where he/she wants to be.
The client is willing to grow, and is open to taking the actions necessary to do so.
These are the only conditions necessary for a coach and client to partner together to solve problems, turn a business around, design and implement a plan of action and/or create a whole new life.
Guest: Charlie Siegel

Charlie Siegel is the founder of The Perfect Path: Life and Success Coaching and a certified Life Partner Quest relationship coach.
Integrating insight, compassion, active listening and focused inquiry with his extensive training in a variety of approaches to personal and spiritual development, Charlie partners with people who know they're capable of much more than they've been able to achieve on their own, and provides them with the tools, resources, and support they require to take the actions which propel them toward their goals.
Charlie alternates his time between his individual coaching clients and conducting seminars and workshops in the Los Angeles area. He can be reach through email or by calling (626) 799-5622.
Website: www.theperfectpath.com