Topic: Emotional Traumas of the Holidays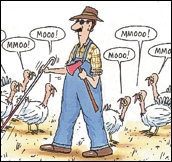 Heal the past to bring joy to the present.
After the most stressful fall in recent memory, it's time for Thanksgiving. Will we find healing in the hearts of our families? Or will our too-high expectations -- and higher stress levels -- rip open the cracks in our relationships?
"This year many people are counting their blessings and re-evaluating what is important to them," stress and trauma expert Mark I. Levy, MD, tells WebMD. "Family relationships are at the top of the list. On the other hand, we are operating at a higher level of stress than is normal." This is likely to spell trouble for some people, warns Jennifer Pollitt Hill, MSW, director of public education for the National Mental Health Association.
"We do anticipate higher levels of holiday blues this year," Pollitt Hill tells WebMD. "It varies from person to person depending on personality and circumstances. A lot of this will be due to September 11 events adding to what people feel each year: stress, fatigue, unrealistic expectations of holiday gatherings, financial constraints, and strained family relationships."
For the thousands of families that lost loved ones in the attacks on America, this will be the first holiday with an empty seat at the table. It will also be a difficult holiday for the many families with members whose military duties put them in peril far from home. Those not in these categories, however, may feel that they have no reason to feel anything but joy -- and will be especially lost if this isn't the case.
(source: WebMD Medical News 11/2001)
Guest: Callers are the guests