Topic: Our Environment Inside & Out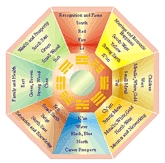 Feng Shui is an organized system that enhances and balances the energy flow of your home and office by improving building design, furniture placements, color schemes and decorative art to make your life work better in absolute union, with remarkable results.
By implementing these principals, this releases the full potential of the areas in your life by increasing your Wealth, Health and Happiness by unlocking the flow of energy in your environment.
(source: www.alltherapy.biz)
Guest: Toni Lefler
In 1992 Toni began her business of enhancing the ch'i (energy) in home and business environments. With a natural talent for creating order and gaining the best use of space, she started as a Professional Organizer. Working primarily with small businesses, she guided individuals to be more productive with their time, space and actions.
That same year she studied Visual Coordinating, the arrangement of existing furniture, art and accessories to complement architectural features while enhancing a home's décor. She has a particular knack for this artistic expression, which helped her discover that proper arrangements greatly enhance the lifestyle and work habits of occupants.
In March of 1995, her knowledge was expanded further when she began the study of Feng Shui. Trained in Black Sect Tantric Buddhist Feng Shui, she learned the ancient Chinese art of balancing the flow of energy with traditional cures and ceremonies.
Today Toni integrates all aspects of her background to bring balance in residential and business environments, while enhancing the ch'i (energy). Her keen perception of the relationship between individuals and their surroundings inspires innovative solutions for spatial harmony. Toni's artistry and sense of order, coupled with an understanding of energy patterns, provides a unique awakening for clients and students to their surroundings and their lives.
Toni's mission is to create beautiful, safe, nurturing environments that support life and comfort the soul. Services include feng shui consultations, relocation assistance, real estate staging, and re-creating existing arrangements for residential and professional clients. She offers classes and presentations on feng shui and real estate staging.
A charter member of The Feng Shui Guild, Toni is a contributing author for Contemporary Earth Design, A Feng Shui Anthology, has written for Around the House and The Real Estate Showcase magazines, and is currently a monthly columnist for Seabreeze Publications in South Florida.
You can contact Toni Lefler via email, business phone (561)799-2737, and fax (561) 799-2791 for feng shui consultations, real estate staging, furniture placement, relocation, and move-in services.
Website: www.askmrpalmbeach.com