Topic: Psychotherapy & Spirituality
Guest: Jim Michael, MA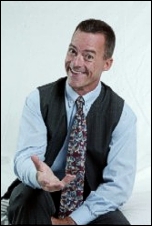 Jim is a consultant, a professional counselor, and a Marriage and Family Therapist (MFT) Intern. He also is a Domestic Violence Prevention counselor at Tarzana Treatment Center. He works in private practice under supervision. He also is a certified Hypnotherapist using hypnotherapy for stress reduction, relaxation techniques, unique dream work understanding, and motivation for change.
He is a pre licensed member of the California Association of Marriage and Family Therapists (CAMFT), and is on the board of directors of the Los Angeles CAMFT (LA CAMFT) and the Lesbian and Gay Psychotherapy Association of Southern California (LAGPA). He has won awards for outstanding service for his work in the field in Domestic Violence Prevention.

He received his education, training and professional experience in psychology, personal training and hypnosis in the greater Los Angeles, CA area. He earned his Master's degree in Counseling Psychology from the University of Santa Monica. He earned his Certification in Hypnotherapy from the New Focus Institute for Hypnotherapy.
While most of his undergraduate degree was obtained at the University of Arizona (UA) in Tucson, AZ, he graduated from Ryokan College with a Bachelor's Degree in Human Behavior. He also has a certification in Stress Management and has a strong interest in the "mind/body" (psychoneuroimmunology) connection.
Through his experiences and education, he has come to a holistic, self-actualizing focus of Therapy, one which includes the body, the mind, the heart, and the soul (Psyche actually means "spirit" or "soul" and the word "Psychology" actually has diverged from it's root word and means the study of "mental processes" and "human behavior").
From this perspective, he views you as the one with the answers to your questions. He can show you things, provide tools for you to use, but ultimately it is you who holds the key, the answers to your life and what you want.
Website: www.jimmichael.com